Chemical and nutritional research of tiger nut drink/horchata de chufa
---
Horchata's strong phospholipid content:
A significant amount of phospholipids have been detected for the first time in Horchata de Chufa, especially phosphatidic acid (PA).
This paper, alongside with other international scientific investigations, reveals that both Chufas/tiger nuts and natural fresh Horchata have one of the highest  phospholipid content, or plant based superfoods even above soy.
The importance of these findings is related to the fact that phospholipids are a major component of cell membranes.
Horchata's lipid content consists of  70-80% monounsaturated fatty acids (healthy fats) and mostly of oleic acid, which together with phospholipids represents a chemical-nutritional dream team. The reason for this is that phospholipids help to integrate oleic acid in cell membranes, and therefore, to strengthen them.
A renowned surgeon plainly explained the function of phospholipids using the following words: "Most diseases which affect us are related to cells. If your cell membranes are strong enough, it can be helpful in preventing pathogens created diseases. This is supported by research all over the world".
It should be noted that whilst manufactured horchata is probably one of the healthiest refreshing drinks (due to its strong lipid content) on the market compared to other fizzy drinks, phosphatidic acid has not been revealed in the analysed samples of processed horchata, only fresh horchata.
Furthermore, the phospholipid content in natural fresh horchata (which means it has not been under any thermal processing to extend its preservation) is significantly higher. Therefore, from a nutritional point of view, the consumption of natural horchata over manufactured horchata would be more advisable.
---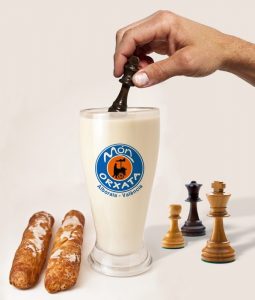 Arginine
Arginine is an important amino acid which works as a precursor of nitric oxide in our body. It is responsible for essential physiological properties, such as the ability to cause vasodilation (widening of blood vessels), which helps to improve blood circulation and pressure.
It is also important to stress arginine's importance in secreting the gastrointestinal hormone which affects the production of insulin. For this reason, non-sweetened horchata can be helpful for people with type 2 diabetes in order to reduce cells' insulin resistance (always within a balanced diet, since horchata has carbohydrates, as any other nutrient).
With regard to arginine, the analysis shows with a statistical accuracy that the average amount of arginine in natural fresh horchata is five times higher than in processed horchata.
---
OTHER RELEVANT INFORMATION
---
Scientific record
The last accurate Spanish research about the chemical and nutritional properties of horchata de chufa was carried out almost fifteen years ago by Miguel Bixquert (doctor in Arnau Vilanova Hospital, in Valencia, Spain):
http://www.chufadevalencia.org/bd/archivos/archivo52.pdf
and the professors at University of Valencia Rosaura Farré and Amparo Alegría.
http://www.chufadevalencia.org/bd/archivos/archivo47.pdf
Within the last few years, chufa/tiger nut and chufa oil are topics for research in Europe, Asia and the United States due to their increasing popularity.
---
International context
NASA has labelled chufas a "bio regenerative life support system" due to its nutritional value and its ability to endure extreme weather conditions.
Chufas or horchata can be found in the most popular vegan restaurants in cities such as London or Berlin and in the most acclaimed organic supermarkets in the United States. Chufa consumption is becoming more and more fashionable little by little in a relentlessly way.
A large glass of fresh natural horchata might cost around 9 dollars in the United States, and a small bag of chufas might cost 8 euro in Japan or Germany.
Universities all over the world such as Oxford or Harvard are interested in the origins of chufa/tiger nut, since it is a millenary tuber and one of the most ancient seeds in the planet.
There is a widespread belief that the chufa/tiger nut comes from the ancient Egyptians era and that it was introduced to Valencia by the Arabs, who might have showed Spaniards to appreciate it and also taught them to cultivate and use it. However, according to research carried out at Oxford University (the results were published in renowned scientific journals), evidence has been found that chufas existed in all five continents in an endemic way, and chufa's origin was placed at least two million years ago in Africa.
While horchata consumption is common all year long in other countries (as any other vegan drink), horchata is considered a summer refreshing drink in Spain.
There is a very popular Spanish legend related to the origin of the word horchata: when James I the Conqueror, King of Aragon, drank horchata for the first time, he really liked it and said in Valencian "Això és or, xata!" (in English: "This is gold, girl!").
---
Multidisciplinary committee
University of Valencia and the companies Món Orxata and Chufamix Vegan Milker have recently signed an agreement in order to offer a local postdoctoral scholarship to the researcher Josep Rubert (Extraordinary Doctorate Award in the Pharmacy Department).
A team of scientists from CSIC (Consejo Regulador de Investigaciones Científicas), University of Chemistry and Technology of Prague, the Food & Health Lab and the Pharmacy Department of the University of Valencia are currently carrying out a research on horchata de chufa. This research has been co-funded by the companies Món Orxata and Chufamix and has counted on the collaboration of renowned artisan horchata makers, such as Subies and Rin, and also the Associación Valenciana d'Orxateres (Valencian Horchata makers Association).
Plans are currently under way to develop a project led by CSIC, the University of Valencia and the horchata sector with the goal to continue this research.
---
Last generation methodology and used samples
Another international research, which started a year and a half ago, was carried out using cutting-edge technology ("Metabolomic Food Finger Printing") to analyse thousands of chemical variables from more than 80 samples of natural, pasteurised and ultra-pasteurised horchata from the most representative brands within the sector.
43 samples of both sweetened and non-sweetened natural horchata were analysed. Samples came from different batches of various artisan companies such as Món Orxata, Subies, Rin, Els Sariers, Toni and Bonaire, and many more. 10 samples of natural fresh horchata were made with different kinds of tiger nut/chufas using the ChufaMix Vegan Milker (an innovative kitchen utensil designed for the homemade elaboration of horchata and other vegan plant milks) and 44 samples of manufactured horchata were also analysed.
---
Research goals
This research was carried out with two clear objectives in mind:
Analysing the chemical and nutritional components of the different kinds of tiger nut drink/horchata.
Differentiating the Valencian chufa from other chufas with a different origin.
The initial conclusions related to the nutritional part of the research have been recently introduced at the Palacio Cerveró in Valencia.
Various international scientific journals have showed interest in publishing the finished work once the research is completed.
Translation from:
Presentación de los resultados preliminares de una investigación químico-nutricional sobre la Horchata de Chufa:
• https://www.iata.csic.es/es/noticias/presentacion-de-los-resultados-preliminares-de-una-investigacion-quimico-nutricional-sobre
---
"At the heart of our company is your well-being and that's why we are not just promoting a great product but a great way of life"
Buy Chufa | Tiger Nut Products